Chrid Benenhaley

swag

Title,

Neck of Bear

Age,

870247502983 Solar Sweeps.

Chat Handle,

zedAficionado

Quirk,

Bitches and hos

Symbol,

A sexy zombie.

Strife Specibus,

Mermaid Kind.

Fetch Modus,

All of them

Relationships,

EVERYONE - MATESPRIT AND - KISMESIS

Planet,

The Land Of Zombies and so many filled promises

Music,

Megalovania
Fruitful Sexual Endeavors
Edit
He tried hitting on Kira, he succeeded
He tried hitting on all of TORD, he succeeded
He never hit on Dwes
He also takes time out of his day to try to get the love of his pillow, he succeeded so hard they had quintouplets.
His life
Edit
He is a grown up man and he cannot stop dreaming of zombies and fucking mermaids.
HE IS NOW DECEASED AND EVERYONE CARES. His zombie fetish turned him into a sexy zombie, rocked to be him---EXCEPT EVERYBODY, I MEAN, WHO CAN DENY THAT NECKBEAR?
HE IS ALIVE AGAIN DUE TO REACHING GOD TIER.
His friends.
Edit
This swag motherfucker has so many friends no one can even name them all.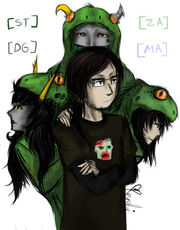 Ad blocker interference detected!
Wikia is a free-to-use site that makes money from advertising. We have a modified experience for viewers using ad blockers

Wikia is not accessible if you've made further modifications. Remove the custom ad blocker rule(s) and the page will load as expected.